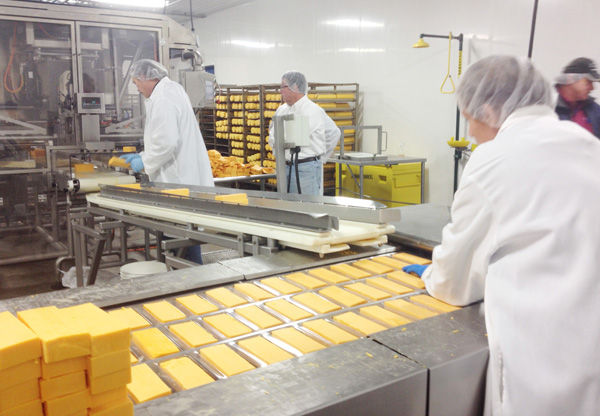 From Wisconsin, Serving International Cheese Makers
At Barron County Cheese, we help cheese producers, wholesalers, and retailers process their raw cheese products into an attractive retail form that sells. Our focus is on flexibility. We can process any cheese product into a full range of cuts, attaching your own label to the final retail product. Our boutique smoking and waxing services are among the finest available in the industry.
High Speed Conversion Packaging
Your core competency is making a fine cheese product. Ours is conversion packaging. At our Barron, Wisconsin facility, we cut and package a wide range of cheese cuts, including:
Square and rectangular cuts
Moons
Half-moons
Horns
Logs
Wheels
Cracker-style cuts
We meet all common cut size specifications, including 8 oz., 16 oz., 2 lb., 5 lb., 10 lb., and 20 lb. cuts. We can also accommodate special orders by request.
Smoking
When it comes to producing that quality smoked cheese taste, there is no substitute for natural cheese smoking.  At Barron County Cheese, we don't rely on liquid smoke or other synthetic tricks we do the real thing. Using real hickory chips and dried apples, our cold smoking process infuses cheese with a fine-smoked flavor over a six-hour period. The result is like few other products available: natural, rich, and with a superior quality you can taste.
Waxing
Elegant, old-fashioned, and symbolic of old-world quality, real wax packaging allows a quality cheese product to truly stand out. At our facility, we naturally wax thousands of pounds of cheese daily using the finest imported waxes. We're capable of meeting any cheese waxing order size, from short runs to large volumes.
Contact Us
Whether you're a private label seeking to covert a wholesale product for retail, or a cheese producer looking for a low-cost alternative to in-house packaging, Barron County Cheese can help. Learn more about our unmatched conversion packaging services by calling our Barron, Wisconsin facility at 715-637-0400.